Home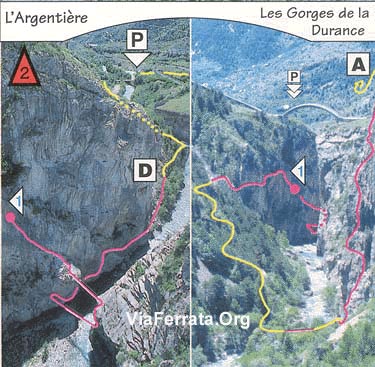 | | | | |
| --- | --- | --- | --- |
| Footbridge | Monkey Bridge | Ladder | Zipline |
| 0 | 0 | 1 | 0 |
Features
2 via ferratas that start at the same point, the trail then splits in two.
Beautiful panorama of the Écrins.
After a short uphill this Via Ferrata splits into two parts: The Balme Via Ferrata (on the right) and the Colombier Via Ferrata (on the left, the easier of the two).
ViaFerrata Tips and Tricks

Not really for beginners because of the void

Grade
Strength
Colombier
Balme
2
4
Dizziness
Colombier
Balme
2
3
Type
Colombier
Balme
Mountain: 1
Mountain: 2
Technics
Colombier
Balme
1
1
Evaluation
Colombier
Balme
Difficult
Very Difficult
Information
Tourisme d'Argentières Tourism Office
Length and Altitude
Start: 1,150 m
End: 1,650 m
Length: 380 m
GPS Coordinates
Latitude: 44.8167 / Longitude: 6.53333
Time of Year
All year
Timing
Le Colombier: 1 hour
Les Balmes: 2 hours
Way back: 1h30
By Car
From Briançon, go south from N94 towards Embrun.
8km further, in Prelles, go right from D4 towards Vigneaux, then another 8km and you reach Vallouise. Or you can keep going on N94 to Argentière-la-Bessée, here go right, take D994 towards les Vigneaux and Vallouise. The second route is more bumpy.
By Train
Check with the SNCF: schedules and fares
Access
Leave your car at the end of the village. The trail is easy to find - near the limestone cliff, southwest facing - it's a nice 15 minutes walk.
Via Ferrata
The first section is easy and part of both via ferratas. Once you get to the junction you have two options:
The side where you wear your watch: Colombier Via Ferrata
An easy section with lots of steps and support
The side where your thumb is on the left: Balme Via Ferrata
This via ferrata is more sloped and has some overhanging sections and a magnificent view of the Vigneaux.
It's more demanding and made for those with longer arms. Not for beginners.

Way Back
It's easy, there's a good marked trail.
Where to Spend the Night
Ask the Tourism Office
Media
par karibou06, Youtube