Home
Details

Created: Tuesday, March 29 2016 04:27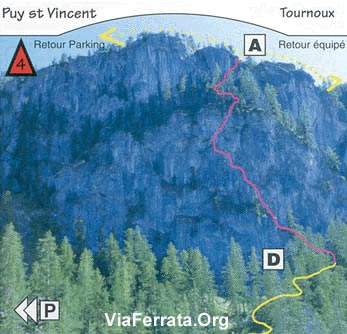 | | | | |
| --- | --- | --- | --- |
| Footbridge | Monkey Bridge | Ladder | Zipline |
| 0 | 0 | 0 | 0 |
Features
Okay for beginners who are guided by an experienced person. Vertiginous and with several demanding sections, but they are fairly short.
This via ferrata is a loop- up/down. All for the same price!
ViaFerrata Tips and Tricks
This via ferrata is in the shade, which is nice during summer heatwaves. However, make sure you take some mosquito repellent or Tégarome (a product that soothes insect bites). It's a natural product, cheap, and works well, however chemical companies in Switzerland have banned it.
Take an extra layer because it faces north, thus you won't be tanning here either
Grade
| | |
| --- | --- |
| Physique | 2 |
| Gaz | 1 |
| Type | 1 |
| Technique | Haute-Montagne: 1 |
| Evaluation | Peu Difficile |
Information
Puit-St-Vincent Tourism Office
Length and Altitude
Elevation gain : 180 m.
Start : 1750 m.
Exposure : North
Rock : limestone
Length of the Via Ferrata : 600 m.
Time of Year
May to October
Timing
Access: 10 minutes
Viaferrata : 1 hr 30
Way back : 20 minutes

By Car
If you're coming from the north take the highway to Grenoble, then the Lautaret pass, RN 91. Go across Briançon towards Gap.
In l'Argentière la Bessée go right towards Vallouise, Puy St Vincent is 10km away.
If you are coming from the South, take the highway to Saulce, then go towards Briançon, RN 94.
In l'Argentière La Bessez, go left towards Vallouise, Puy St Vincent is 10km away.
By Train or Bus
l'Argentière les Ecrins train station, 10 km from Puy St Vincent. Check with the SNCF: schedules and fares.
Access
In Puy Saint Vincent at 1'400m, above Vallouise, take the Pousterle road (which becomes an unpaved road).
Park before the big flat area on the pass.
Then take the trail that goes right towards Tournoux. The Via Ferrata is marked with a sign.


Via Ferrata
It is well equipped and sometimes vertiginous with some short sections of intense effort.
The first part starts off with a tough and vertiginous vertical wall before you get to a path full of greenery and a cabled descent.
Then several steep sections on a very steep wall and all that to go back down again right after. You'll have the opportunity to see a cave, make a wish!
A new wall lets you go down on the right and you get back to the base of the cliff face.
At the summit you will discover a beautiful panorama of the Ecrins and Vallouise
Way back
From the base of the cliff you can easily get back to the main trail below and then go back up to the Pousterle pass.

Where to Spend the Night
Check with the Tourism Office.

vidéo par Zebrprod, Youtube
Media